It giet oan! 1)    On Sunday August 15, our enthusiastic club members Paul and Daniël will organise a ride thr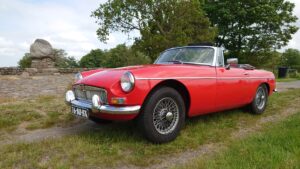 ough the southwestern part of this beautiful green province that will show its diversity during this summer sightseeing tour. You will drive past centuries-old buildings and discover historical stories from the distant Frisian past.
There will be another ride in Friesland? Tell us more!
It will be a day when you drive your closed or open classic or less classic car through the National Landscape Southwest Friesland. This National Landscape consists of four very different types of landscape and each has its own historical landscape elements: the IJsselmeer coast, the clay area, the moraines and the peat and lake area. The lake area is popular with water sports enthusiasts. Among other things, the Skûtsjesilen is held here. But you don't have to go sailing that day, no, we're going for a stroll. Strolling between the Frisian lakes!