Sunday August 27th, is not only the day of the Grand Prix at Zandvoort, but it is also the day of a fun GCCC ride The Petit Prix!
The Riff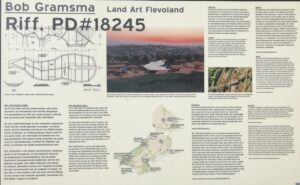 The theme initially was Land Art in Flevoland, but due to the slightly too large distances between the various objects, we have, instead, found a beautiful route, more suitable in kilometers that passes at least one Land Art object: The Riff, a wonderful piece of land that has been pulled up from the bottom. At least, so it seems.
The route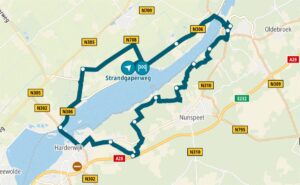 The route starts near Biddinghuizen at a good restaurant with ample parking space for our dear beauties.
This varied tour first takes us along Veluwemeer, via The Riff, to Elburg, an exceptionally nice fortified town bordering on the former Zuiderzee through which we will slalom a little. Then we'll drive through open farmland and meadows along narrow meandering roads and through a small wood towards Harderwijk.
There we cross Veluwemeer from the old land to the much tighter and remarkably more spacious new land of Flevopolder. An incredible contrast but each with its own charm. We end up at the same restaurant and there we can first have a drink – weatherproof – (inside or outside) and then, for those who'd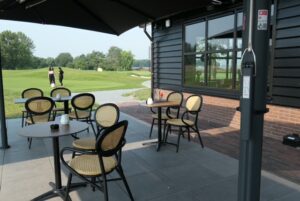 like to, we have arranged (also inside or outside) a summer grill at the end.
Some competition questions have been included to keep up your sharp wits, and with which you can get a Petit Prix!
Start and finish are at the same spot, so if you'd like do to ride with somebody else, you can let us know at the start.
What does it cost?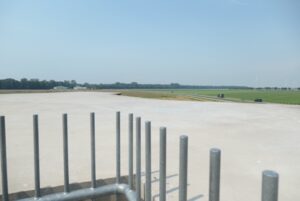 Taking part costs € 13,- for members and € 15,- for guests. The summer grill is € 36,50 p.p
Can our four-legged friends come along?
Dogs are welcome, provided they are trained and leashed.
Registration
Registration was possible until Sunday August 20th.
Looking forward to seeing you on the 27th!
Disclaimer
The GCCC excludes any form of damage whatsoever. Photos and videos are also taken during the ride. If you do not appreciate this, you are responsible for this yourself by kindly asking the photographer or videographer not to take any images of you or your car (number plate). The photos and videos are generally shared on personal Facebook and Instagram pages of individual participants and the GCCC Facebook page.