On Saturday, September 23, it is time for the Night Ride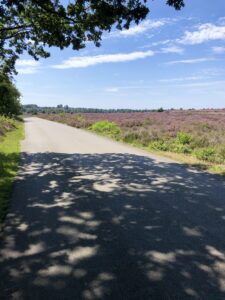 again. But as organisers we thought that the title evening ride would be more appropriate this year, the reason being that we would like to slightly increase the number of participants by bringing the time forward.
Salland
The natural surroundings in Salland and the Overijssel Regge valley offer plenty of space and truly are a gem.
We meet at around 3:00 pm at a restaurant in Ommen and when the weather is nice we can, of course, sit outside on the terrace along the river Vecht. A nice quiet place with a view of the river, the (locally) famous hotel De Zon and the bridge that we will cross later. Upon arrival, coffee and a petit four await you and it is time to catch up. Of course, we will explain what the purpose of the ride is.
Route bingo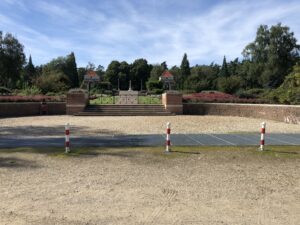 You will receive route instructions with the familiar balls and arrow diagrams or as a GPX file for your satnav. Before the ride starts, all teams receive a sheet with traffic signs and other striking objects along the road. You are meant to photograph them. Why? When all participants return, we will play a decent game of old-fashioned Bingo and the photos will determine whether you win or not…
We start at around 4 pm, so the first participants will leave in good daylight.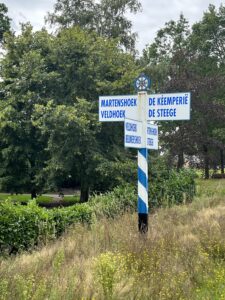 Some things will we see along the way:
Beerze
The route will take you from Ommen via the Beerzerveld. You will drive along small roads past, among other things, a sand drift and a number of small village communities with an almost un-Dutch idyllic appearance. There are plenty of old farms along the way and they give a nice picture of how the area here used to be filled with small communities.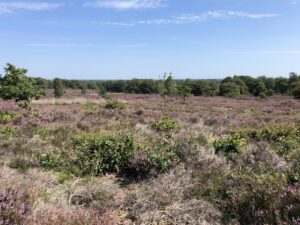 Holterberg
Holterberg is the most famous 'mountain' of 'De Sallandse Heuvelrug National Park'. On top of Holterberg you have a spectacular view of the surroundings. This enchanting view stretches for miles on a clear evening. In August the heather was in full bloom and hopefully that will still be the case on the day.. This area is certainly also worth visiting at other times, for example there is the Canadian Cemetery, which is an important part of our history. We will then drive down from the 'mountain', so keep in low gear to fully enjoy this. The descent is 43 metres with a considerable 10% gradient.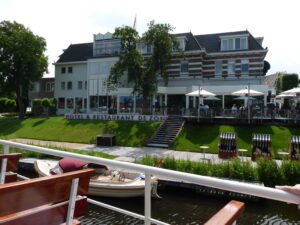 Lemelerberg
The nature reserve around the Lemelerberg is a moraine. When you drive up, you will see how the ground was pushed up to a height of 60 metres during the ice age. Along the way you will also drive past a huge boulder. We are curious if you will see it?
And ultimately the final destination and therefore the finish is back in Ommen, where we left. When the weather is nice, we will of course go back on the terrace. If the weather is less nice, we can sit inside in a somewhat enclosed area.
Dinner
We have a few choices available for dinner: we start with a sandwich and some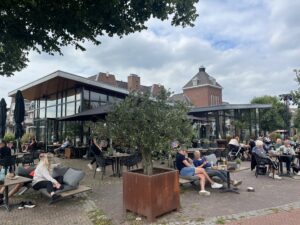 spreads beforehand. You can then choose from the following Burgers: Chicken, Beef or Beets. And there is also quite a choice for dessert: a Dame Blanche, but not as you traditionally know it: a local famous pastry chef makes it in a very special manner, we are told. Are you less adventurous? No prob: then you choose, for example, a Mega Pistachio ice cream macaron or a Coffee Deluxe.
Short programme:
3:00 pm: gather at the restaurant in Ommen
4:00 pm: start from the Vechtkade
7:00 pm: expected finish
7:30 pm: dinner.
Our creative club member Paul has made another fun announcement film that you can watch here.
What does it cost?
Participation costs are €9 for members and €11 for intros. Dinner is €34.50 p.p.
Are our four-legged friends allowed to come along?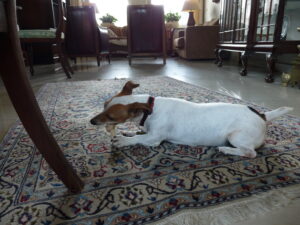 Dogs are welcome, provided they are well-trained and kept on a leash.
Are you curious about the ride and do you want to be there? Then register here. Registering is possible until Sunday 17 September at the latest.
Disclaimer
The GCCC excludes any form of damage whatsoever. Photos and videos are also taken during the ride. If you do not appreciate this, you are responsible for this yourself by kindly asking the photographer or videographer not to take any images of you or your car (number plate). The photos and videos are generally shared on personal Facebook and Instagram pages of individual participants and the GCCC Facebook page.