What did the GCCC do in 2005?
Photo: Hay Stick Picknick on July 17, 2005
February 13: AGM at Jaguar Main Dirstribution Building
March 20: Rozendaal and a run though the Veluwe area
March 26 to 28: Elegance Cruise at Sedan, France (organised by Ledorga)
April 7 to 10: GCCC present at Techno Classica
April 22 to 25: Present at Rainbow Experience Show, Amsterdam
April 24: Spring Ride, Tholen and the West of the province of Noord-Brabant
May 16: DAF Museum and ride around Eindhoven
May 20 to 22: Eurotour 2005, Southamton an Isle of Wight (organised by GCCG)
June 25: Pink Saturday Ride, Nijmegen
July 17: Hay Stack Picknick, with a ride trough the green heart of Holland
August 14: Goats' Rally, around Wilrijk (Belgium)
September 18: Floralia, at Nieuwe Niedorp. Dahlia show
October 16: Light Tour Through Rotterdam
November 20: Cruise around Geijsteren and Kevelaer
December 18: Autoworld, Brussels, with a tour through Art Nouveau quarters
GCCC terugblik 2005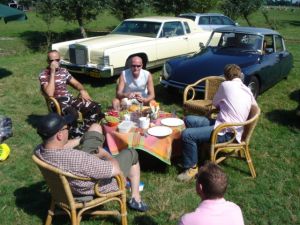 18 december 2005: Bezoek aan Autoworld in Brussel met aansluitend een korte rit langs huizen in Art Nouveau en Art Deco stijl. Prachtig weer, wel koud: 30 deelnemers, waarvan 22 een dag eerder kwamen en overnachtten in een Brussels hotel.
20 november 2005: Knusse najaarsrit met bezoek aan bedevaartsoord Kevelaer en bourgondisch dineren in Eethoeve De Boogaard in Geijsteren: 22 deelnemers, waarvan 16 bleven dineren.