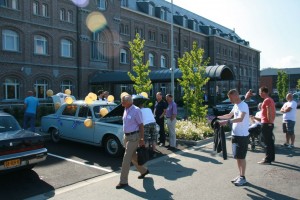 VERVIERS – GCCC and the core team of the Eurotour 2011 organizers, can look back on a very successful international Whitsun weekend! With over 90 classic cars and 182 participants, this was the largest GCCC event so far. The very luxurious Van der Valk Hotel at Verviers in de Walloon Ardennes formed the base.
Pictures of Eurotour 2011
Roadbook
The colourful 'roadbook', which contained the routes, was exceptionally well made by Hans. Even in spite of the fact that some parts turned out somewhat unclear due to an unexpected cycle race, it was easy to pick up the route again thanks to this roadbook. This showed its quality!
Who did we meet?
We welcomed 90 Dutch people, but also 47 people from Britain, 25 from Germany, 6 Americans, 4 from Denmark, 4 French, 3 Swiss, 3 Australians, 2 Norwegians as well as one person from Cuba and one from Indonesia! Looking at the participants, it is clear that Eurotour has now outgrown its European borders! The emphasis of this weekend was on sociability and time for each other in a beautiful woody and hilly setting. The friendly atmosphere, also between the different nationalities was striking.
Special classic cars

The car collection was again a cheerful mix of all sorts of car makes and creations of the past 100 years. The real classic car was a beautiful Berliet Tourier 4 cylinder from 1904 (the oldest car, as it had been before during Rainbow Tour 2010). And what else could be seen around? Fords, Peugeots, Bentleys, Cadillacs, Rolls Royces, Renaults, Fiats, Alfa Romeos, …. etc. (just browse through the digital photo albums!)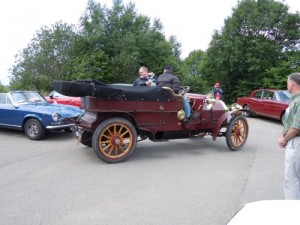 Luxurious hotel rooms
On Friday June 10 the guests were welcomed in the car park of the Van der Valk Hotel Verviers by Erik and subsequently by the hotel staff. Then by Aldrin, Marchel and Paul for the issue of rally shields and the documents necessary for the smooth running of the week-end. The hotel rooms were decorated luxuriously, so that was a pleasant start of the week-end. Then all guests went to the hotel dining room for dinner. Later that night there was the possibility to taste free whisky of a newly to be marketed brand. Imposing was the Harley Davidson motor cycle that had been exposed as an eye-catcher for the whisky, and, ehh, the young man who handed out the drinks was not bad either…
Chocolate
During the morning ride of Saturday June, 11th the drivers could swap partners, which meant somebody else reading out the route as a navigator for a change. A beautiful ride followed through the nice hilly and mountainous Ardennes countryside. Destination was a small chocolate factory: Chocolate Defroidmont. Nice chat with each other while enjoying coffee or a chocolate. Of course we didn't limit ourselves to one chocolate, as people had been busy buying at the shop!
Garden park
Then a short ride to the tiny city of Durbuy, where we could have our lunch. The choice of a restaurant was free, so the large group of pink participants was well divided over the city. Then there was the possibility of taking a stroll through Durbuy and to pay a visit to the Parc les Topiaires. In this garden park the trees are artfully transformed into figures such as a woman with large boobs or into all sorts of domestic animals. Later there was dinner at the hotel.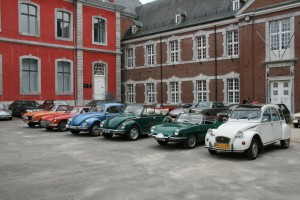 Stavelot
The pleasant morning ride on Sunday June 12 led us to the highest point in Belgium. After coffee the second part of the morning ride took us to Stavelot Abbey. In the large courtyard almost all of the classic cars could gather, which meant they were all parked in line within that courtyard. In the abbey's atmospheric vaults we all had an excellent lunch. In this abbey there also happened to be a small museum: the Museum of the Circuit of Spa-Francorchamps. Many classic sports cars could be admired there, and also a portrait gallery of several racing drivers from bygone years. Then back to the hotel passing the Coo waterfalls, a tourist attraction.
Beer tasting
The sun was really shining when at the end of the afternoon we went beer tasting on the hotel terrace. To start with there was a light beer, then one a little heavier and the last glass contained yet even more alcohol and had a sweetish taste. Meanwhile we munched small bits of cheese, salami and savoury biscuits. But things didn't end there, GCCC-member Wouter had turned 50 that day and that called for drinks. His friend Luco therefore had ordered bottles of pink champagne, which resulted in an even better atmosphere.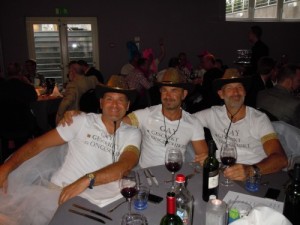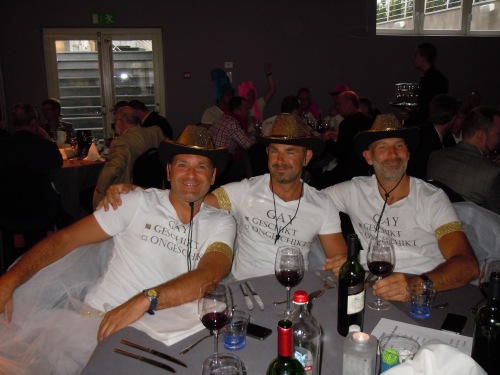 Dress to impress
That atmosphere continued during dinner that night. Almost everybody had changed into some creative costume: dress to impress! So nice to be able to have a laugh at somebody, but also show admiration for the very creative work of some participants. Dinner itself was appreciated and after that quite a few words of thanks followed addressed to the organisers. The weekend finished with a large gay disco party. And of course there was a surprise act. This time personified by Fransix, who made the party even grander. After the performance the dj managed to keep things going with many well and lesser known 'gay' hits. Things went on into the small hours! To grant everybody some rest, Monday morning had nothing on the programme. Just the breakfast buffet together, and after that it was time to say goodbye.

Special thanks

A number of dedicated GCCC members, Aldrin, Marchel adn Marcel formed the core team. Together with many other volunteers in front of or behind the scenes (Con, Koos, Hans, Erik, Paul, Anders, Brian, Dick, Dominique, Ernst, Jeremy, Graham, Jim, Joss, Marc, Michael, Pierre, Piet, Ralf, Robin, Shaun and Stephan) they saw to it that it turned out into a tremendously nice and large international event with a splendid collection of all sorts of classic cars of all sorts and shapes. Finger licking stuff! Thanks to all, and also to all the participants. The whole event will be remembered with joy.