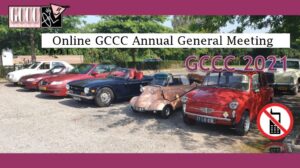 Dear members,
We hope you are all still doing well.
After an eventful period in which our old and young timers have been mainly stationary, we, the daily board of the Gay Classic Car Club, would like to invite every member to the Annual General Meeting of 2021.
As most of you know, we always have the AGM earlier in the year. Last year on March 8, 2020, the AGM could be held on location just before the lockdown.
By moving the AGM from March to June 26, we had hoped that an AGM could be held on location. Unfortunately, the COVID measures do not allow an AGM on location yet and therefore the AGM has to be held online this year. You should have received the agenda as an attachment by e-mail. If this is not the case, please send an e-mail to info@gccc.nl to receive the agenda.
At this Annual General Meeting we look back at the events of the past year and provide insight into the ins and outs of our club. In addition, we will provide a glimpse of the national and international events of the coming six months.
In March/April of this year, the board presented the financial situation of the club and an explanation of the expenses and income. An online members' consultation about this was held in April, the result of which we will discuss during the AGM. Of course, the members present can vote on, among other things, the contribution for 2022 and the composition of the audit committee.
As a member and as a partner member of the GCCC-Benelux you are of course welcome to participate in the online AGM. However, the Annual General Meeting is not open to guests.
When you register, you will receive an email with an invitation to the AGM Teams meeting.
During the break there will be an opportunity to vote via an online consultation.
You do need an account to participate in the online consultation. If you don't have an account yet, please notify info@gccc.nl.
See you at the online AGM!
JerryWan,
Secretary GCCC