After 301 days, the time has finally come: another GCCC tour!
On Sunday July 25, after all the corona misery, we will start with the most fun ride of the year, the Picnic Ride. Paul and Marchel have provided the route from a central location in the Green Heart to the well-known meadows of Piet and Ernst.
Just like we did at last year's Picnic Ride, we will not start at a catering facility but at a parking lot on the water.
While enjoying a drink with something delicious to eat you can, at last, catch up with the other GCCC members.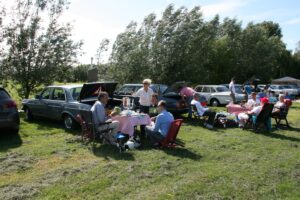 On that day you are welcome from 12 noon! We start our engines at around 1 pm and do the touring at leisure on narrow roads to the final location.
Once there, you can take all the goodies from the boot of your car and chosse a spot on the green field around the farm and start enjoying yourself. Then, too, there will be ample opportunity to exchange the latest news about your acquisitions or projects with your GCCC friends, who you have had to miss all this time.
Due to COVID-19, 1.5 metres distance must be kept from each other at the public starting location and at the picnic area.
Furthermore, the already known COVID rules apply, such as no shaking hands, kissing, cuddling and if you have flu symptoms, you must, unfortunately, stay at home. Everyone has their own responsibility in this.
You are of course dying to participate! So don't wait any longer and register via the registration button. Taking part in this fun tour will cost €4 for members and €6 for guests.

Dogs may be taken to the starting and picnic location. Keep them on a leash and under control.
Disclaimer
The GCCC is never liable for any damage arising from or in connection with participation in an event. The participants always participate in an event at their own expense and risk. Photos and videos are taken during the ride. If you do not wish to appear on it, you are responsible for this yourself by kindly asking the photographer or videographer not to take any images of you. The photos and videos are generally shared on individual participants' personal Facebook and Instagram pages and the GCCC Facebook page