All members of Gay Classic Car Club Benelux are invited to the Annual General Meeting of 2020!
At this AGM we will look back at the events that took place last year and other things that have gone on within our club. Apart from that, we will be looking forward to the national and international events planned for 2020.
The board will, of course, also present details of the financial situation of the club. Members present will have the opportunity of voting. One of the other points discussed will be the plans for the future of the club.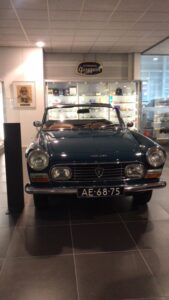 All members and partner members are welcome and can vote. Non members are not allowed.
The meeting will take place at the Visscher PGH Autogroep showroom in Culemborg. We will be surrounded by new cars, miniatures and classic French cars, because our host, Mr Henk Visscher is an avid collector. In the interval we are allowed to see his extremely nice collection. The Visscher firm is also well-known for the annual French Car Day in the first weekend of Augustus. More info on the Facebook "Fad' 20" page! Enough reasons to come to this AGM. Hot and cold drinks, rolls and snacks will, of course, be presented.
Where and when: the AGM will be held in Culemborg on Sunday March 8, 2020. The showroom will be open from 11.30h. On arrival you some tes/coffee and cake will be waiting for you.
Start and finish: the meeting will start at 12.30 uur. In the interval rolls will be waiting for you and you can admire Mr Visscher's private collection. The end is planned at 16.30h, after which there is still time for a drink till 17.00h at the latest.
Further details of the meeting have been sent to the members by mail .
Voting by proxy is possible. In that case please send an email to the board. State clearly which (partner) member will be authorized. Proxies can also handed in, signed, before the meeting to the secretary or the president.
Dogs: Dogs are welcome, but only when kept on a leash and well-behaved.