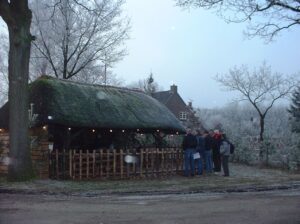 So far, GCCC has organised enjoyable Christmas Crib rides every other year. This year it will be the tenth edition, taking place on Sunday December 29th. A good moment to look back at the past year and to welcome in 2020 together with your GCCC friends. The ride is located in western North-Brabant, but we'll be crossing into Flanders as well.
What car will you take?
Of course it will be appreciated if you can take your oldtimer. But if the roads have been gritted and weather conditions are bad we can imagine that you prefer taking your daily car instead.
Where are the start and finish?
This time the organisers, our GCCC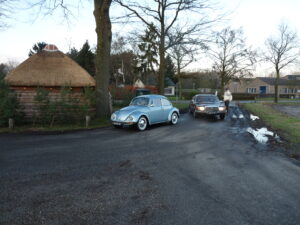 members Con and Koos, have chosen to start at a location where we've been before a couple of years ago, just outside the village of Zundert at an enjoyable restaurant. Members will get the exact address by mail. You are expected to get there between 12:00 and 12:30. Outside there is ample space to park your car.
On arrival you'll be welcomed with a cup of hot wintry pea soup. For vegetarians we have an alternative: Brown beans soup.
What will the ri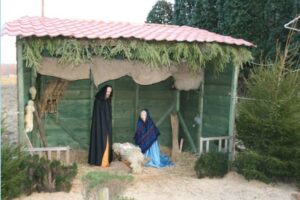 de look like?
Each Christmas Crib ride is about 75 kilometers long, in which photo details from the many Cribs have to be found. Photo details taken from the cribs themselves or from the immediate neighbourhood. Try to solve the photo puzzle and if you have all questions rijght there will be prizes waiting! In case there are more good solutions there will be a tiebreaker question or task. You've got lots of time but be sure to be back no later than 17:00h.
What should you take with you?
Good mood first of all. Because it gets dark early, a torch will come in handy. Apart from it being handy inside your car, it also provides you with the opportunity to loo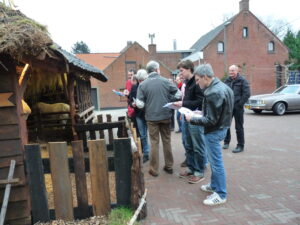 k in all the nooks and crannies of the Christmas cribs. Also, don't forget to take your identity card.
Please note: in Belgium a yellow vest for each person in the car is a must.
What's on the menu?
At about 18.00h. dinner will be served for those who indicated it when registering. It will consist of leek soup, followed by beef stewed in Flemish beer accompanied by chips. To finish it off there will be ice cream with cherries. For vegetarians there is portobello stuffed with spinach and brie.
What will all this cost?
Prices for this tenth Christmas Crib ride are € 1,50 for GCCC members en € 5,25 for guests. Included are peasoup on arrival. Dinner will only be € 19,50 per p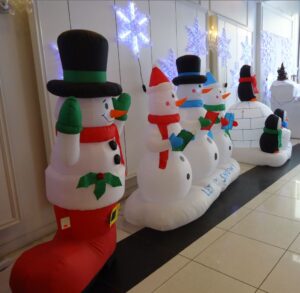 erson. Drinks are at your own expense as usual.
Can I take my dog?
Yes, but the owners must keep their faithful four-legged friends on a leash and have them under control.
Can guests come too?
Of course, but only registered through a GCCC member.
Disclaimer
GCCC can never be held responsible for any damage whatsoever as a result of participating in this event. Participation is at your own risk and expense. During this event photos and videos will be made. If you don't want to be in these, it is your own responsibility to ask the photographers/film makers to refrain from making images of you. In general these photos/films will be published on personal Facebook or Instagram