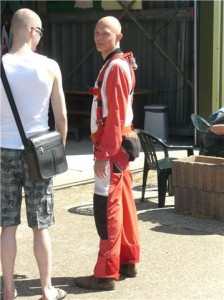 In the Summer GCCC Drive of Sunday August 22, 2010 the province of Zealand played a central role, with a tremendous chance of taking part in a flight with a classic two seater glider!
What made this trip so special?
Zealand has a beautiful countryside with dykes and views, the trendy town of Goes, but also untouched villages like Kloethinge, Wilhelminadorp, Nisse en Overzande and 's-Heer Abtskerke. A large part of the route was along typical Zealand dykes, right across the countryside.
What special sights could be seen?
Windmills and churches played an important role around the village of Borssele in the 15th century, a thing that can still be noticed today. The beautiful Geerteskerk in Kloethinge is one of those with a lot of history. In the village of Nisse we drive past the Reformed Church, and because it will be on a Sunday we noticed how quiet this place was, all because of people's strict faith.
Where and when did the flying and the driving start?
We gathered early on Sunday morning at 10 o'clock at vliegveld 'Zeeland Airport' near the village of Lewedorp in Zuid-Beveland, halfway between Goes and Middelburg. From this early hour the flying started.
In the afternoon (around 13.00 h.) the drive with our beautiful old and new timer cars started. You could choose to take part in both the flying and the drive, but you could also choose to take part in only the flying or only the drive.
Why gliding?
GCCC member Wilco is an experienced glider pilot and has his contacts in Zealand too. Because of him we could fly with classic two seater gliders above the Veerse Meer. You will know Wilco because of his nice NSU and Dafs.
What are the conditions?
Taking part is at your own risk, GCCC can not be held responsible in any way!