TROYES (April 5-9, 2007) – During Easter 2007 our sister oltimerclub Ledorga o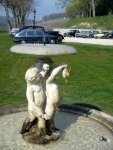 rganised a great classic car weekend in the champagne region of France: l 'Aube, near Troyes. This time the populair Elegance Cruise reached its 5th edition!
Very nice tours in de region of Troyes, beautiful sunshine and lovely temperature, visits, good kitchen. But also technical trouble for some classic cars. A pity for some owners of a Burton, Renault, Rolls Royce and Austin Healey. Each with their own story…
But technical problems can happen with each car, so everybody stayed happy. A very nice weekend with a concours d'élégance, visit to Bligny castle and the old residence of Charles De Gaulle, champagne tasting, guided tour at the Chacenay castle, stop-over for admiring the big dyke of the Champagne region and very nice lunches at Claivaux abbey and Le Marinka in Mesnil Saint Pere. Dinner and breakfast were served at Novotel in Troyes. All 93 international participants enjoyed the lovely weekend with much pleasure in a friendly and relaxing atmosphere.