On Sunday November 27th Ton and Piet will take us from Bocholt to the Lower Rhine region. The 'Weihnachtsmarkten' (Christmas markets) start here at the end of November (and they have all gone right after Christmas). We will visit two or three.
We will also visit two castles, with unique collections of modern art and art from the past. There is a lot of 'go as you please' at this event.
It will be crowded everywhere. No routes have been worked out so driving from place to place is done just using your own satnavs.
You can choose to come on Friday or on Saturday. You can also go home on Saturday or stay until Sunday. If you go home on Saturday, you have to book your hotel in Bocholt yourself. However, we have reserved 26 double rooms (€79 per night) and 8 single rooms (€64 per night) at this hotel until November 1st.
The hotel for the overnight stay and how to book will be in the separate email sent to members.
Breakfast is always € 10 and there is plenty of free parking space. If you leave booking late, there is a (more expensive) alternative which can also be found in the members' email. (You can still have breakfast with the others at the other hotel). Bocholt is one of the nicest places in the Lower Rhine region and is a 60 kms drive from Arnhem or 70 kms from Nijmegen or Boxmeer.
What will we do?
Friday November 25th, optional.
If you have also booked your hotel for Friday, this is the program. In the afternoon we meet at the (rather small) Weihnachtsmarkt where you will get to easily when you leave the hotel and turn right. Friday evening 25 November we dine at a restaurant in Bocholt, where we have our own room. It sure is going to be fun.
========
Saturday November 26th, optional
At 11:00 we gather somewhere in Bedburg-Hau. There is no Christmas market here, but there are exhibitions you can see. You can eat there if you
wish, but that is also possible later on at the Christmas market we will visit later.
From Bocholt to Bedburg-Hau it is 36 kms distance, taking 45 minutes.
After the visit in Bedburg-Hau we go to a Christmas market in Xanten.
From Bedburg-Hau to Xanten it is 20 kms. Parking in Xanten is not easy with its busy parking lots along the Bundesstrasse, but you can also try for parking spaces on the Westwall, side street De Beyer. The Marktplatz is in the Altstadt, not to be missed.
We stroll around a bit, there are stalls and there is a small shopping street. We dine at Xanten. Here we have no arrangement. The owner wrote to us: 'You have the possibility to eat à la carte, just please yourself. If you arrive not all at once, that would be very convenient. I can send you a menu that will be offered. I can send you this early November'.
So there is a choice: eat at the restaurant, if you've had enough of the Christmas market stalls, or dine somewhere in Bocholt, in which case you don't have to drive afterwards.
Sunday November 27th
After breakfast we go to Isselburg-Anholt, 17 km away from Bocholt.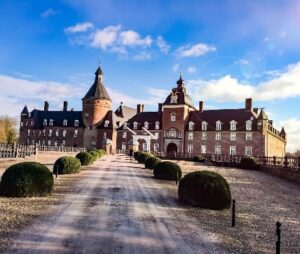 We are expected to be there at 10 o'clock. We get a tour where we'll see a unique collection of art treasures and hear an exciting story about the successful safekeeping of the many art treasures in the Second World War. Most visitors there are overwhelmed.
After the visit we will enjoy a brunch in Isselburg as a goodbye.
There is sufficient parking space.
Can our four-legged friends come along?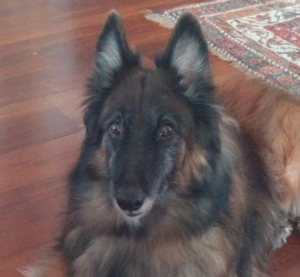 According to German law, pets are not allowed at hotels, restaurants and castles.
To summarize what you need to do:
Book the hotel yourself for (possibly Friday and) Saturday. Please indicate where you sleep in the comments. Where and how to book is stated in the announcement email
Sign up for Sunday's ride (even if you participate all weekend). This is possible until Sunday November 20th at the latest.
If you come on Friday and leave on Saturday, you don't have to sign up. But please send an email in which you tell us at which hotel you are staying.
What are the costs?
Members: € 32
Intros: € 35,-
This includes the tour at Isselburg-Anholt and brunch in Isselburg on Sunday November 27th.
Not included are:
The stay at the hotel: € 79 per night for a double room and € 64 per night for a single room.
A complete meal for € 20: schnitzel meal or vegetarian on Friday evening.
Admission for the visit in Bedburg-Hau (park and exhibition): € 7,- with a voucher for a cup of coffee on Saturday.
Lunch and dinner on Saturday
We believe that with this planning this will be the best way to show our members what the Lower Rhine region has to offer.
Finally, something completely different: maybe you also want to do some shopping and therefore intend to come to Germany earlier on Friday. Drinks are cheaper than in NL, just at the supermarket. In Bocholt there is a large 'Kaufland' hypermarket with a good and cheap selection of drinks and things. In Bocholt there is also a shopping center.
Event arrangement
This event has been registered for the Dutch event schedule.
Disclaimer
The GCCC excludes all damages of any kind. Photos and videos are also taken during the ride. If you do not appreciate this, you are responsible for this yourself by kindly asking the photographer or videographer not to take pictures of you or your car (number plate). The photos and videos are generally shared on individual participants' personal Facebook and Instagram pages and the GCCC Facebook page.