We, Daniel and Mark, try to honour and continue the wonderful tradition of the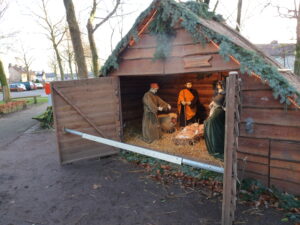 biennial Christmas Crib Ride, created by Con and Koos, on Sunday 19th December. Most Christmas cribs, visualising the nativity scene usually with lifesize figures and often live animals, can be found in the Southern part of The Netherlands and Flanders and that will probably remain so, so everyone will again descend to the Southern parts.
Due to the corona restriction measures, we have not planned a dinner this time, but a lunch. Arrival and registration are therefore followed by a joint lunch.
Lunch consists of:
Mushroom soup or vegetable soup (vegetarian), a chicken sandwich and a salmon sandwich. Of course you can also opt for two chicken sandwiches or two salmon sandwiches. If you want a vegetarian sandwich, you can of course also indicate this with dietary wishes.
There will be a contest, but it will not be about the nativity scenes. These forms will be handed in during lunch or reception and the prizes awarded to the winners when they report to the 'oliebollen' (deep fried doughnut balls) moment.
The ride will lead us through Moergestel. Moergestel is traditionally known for the shoe industry, the well-known brand Van Bommel is still present here today.
From Moergestel we continue south to Diessen. We continue on the road to Hilvarenbeek, known for the Beekse Bergen, but we are not going there this time. At De Vrijthof (not to be confused with Het Vrijthof in Maastricht), there is plenty of catering, so plenty of opportunity for refreshments and a sanitary stop.
From Hilvarenbeek we head for Goirle, this time for a nativity scene in the middle of a residential area, coincidentally also inhabited by Mark's parents, who will also take care of the supply of warm 'oliebollen' for enthusiasts!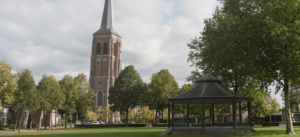 We go north again, via Tilburg, Berkel-Enschot, Udenhout and end up in Haaren.
The last nativity scene is in Oisterwijk, this time not at a church, but in a kiosk, on De Lind in Oisterwijk.
De Lind is a square in the heart of Oisterwijk, a protected cityscape and very well known. Again, plenty of catering with cozy (heated) terraces.
Participation costs are €4 for club members and €7 for guests. That includes coffee/tea with pastries. Lunch is €12. Entry is from 12 noon, lunch is at 1 p.m. and the ride starts at 2 p.m.
Dogs are welcome, provided they are trained and on a leash.
Disclaimer
The GCCC excludes all damages of any kind. Photos and videos are also taken during the ride. If you do not appreciate this, you are responsible for this yourself by kindly asking the photographer or videographer not to take pictures of you or your car (number plate). The photos and videos are generally shared on individual participants' personal Facebook and Instagram pages and the GCCC Facebook page.