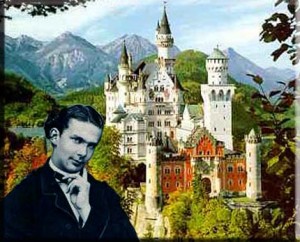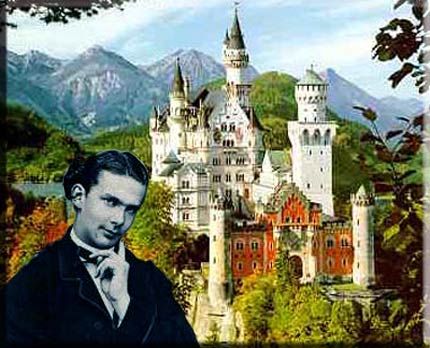 It has become a tradition for GCCC to organise a sociable event in the Christmas period. At this year's event on Dec. 13th, 2009 we were able tolook back at the past year together with other GCCC friends, enjoy the splendour and beauty of the Bavarian fairy-tale king Ludwig II and drive past a few fairy-like castles in the south east of the province of Gelderland (Hernen, Wijchen, Bergharen and Batenburg).
The start for the 66 participants was at Hotel Restaurant Umberto, Graafseweg 699, 6603 CE in Wijchen (close to Nijmegen and Alverna) at 12.00 h with coffee/tea with delicious "Wijchen Emiliastoet" pastry. It was there that we also fisheshed this event.
Slides show and talk
Preceding the drive, our club member Jan van der Schee talked about the beautiful theatrical life of Ludwig II, de Bavarian fairy-tale king. In a breathtaking slides performance accompanied by the beautiful sounds of Richard Wagner, Jan took us on a journey to the neogothic period and old myths.
How gay was the fairy-tale king?
Ludwig was engaged to his cousin Sophia of Bavaria, the sister of empress Elisabeth of Austria, also known as 'Sisi'. After having postponed the wedding a couple of times, he finally cancelled the wedding in October 1867. Ludwig was never to marry, let alone give an heir to the dynasty. Worldwide, historians suspect that he was gay, based on the monarch's letters and the courtiers' memoirs. This discussion will always remain controversial, because the Bavarians don't want to talk about his homosexuality too much.
Drive with stunning views
Then it was time for the drive. It was a beautiful day, rather cold but with the sun shining the drive was full of breath-taking views across the polders and at the country estates. All this variety made one feel sorry when we reached the end.
That end was at the car park of Umberto and then we heard the second half of the slides show and talk. By now it was time for a drink and a chat with friends, followed by a nice three course dinner, if one had booked that beforehand. The menu could be chosen on the spot, with a choice of meat, fish or vegetarian.
Our thanks to Aldrin, Erik, Rob en Jan!