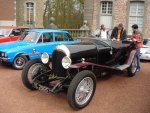 VALENCIENNES (April, 17th 2006) – Our sisterclub Ledorga organised the 6th Happy Way at Easter 2006 (14-17 April) with 100 participants (Holland: 21, Belgium: 2, France: 23, Germany: 15, Great Britain: 38, USA: 1).
This edition with Happy Classic Car owners took place in the French-Belgian borderland near Valenciennes. On Saturday morning (April 15, 2006) we started out in the direction of Belgium, where we had visited the ancestral Beloeil castle of the Princes of Ligne.
The castle is quite classic in design and surrounded by a moat and superb French gardens, designed in 1664. The afternoon drive brought us to Leuze-en-Hainaut and its motoring experience 'Mahymobile'. Ghislain Mahy had acquired and reunited in over 50 years of research and various travels around the world a collection of more than a thousand vehicles of all eras and sorts.
On Sunday 16, we started for the morning pleasure drive around the region's car production sites towards Lewarde. We arrived a little too late in the mining town of Lewarde. Lunch was served in restaurant 'Le Briquet'.
After lunch, we visited the mine centre of Lewarde, installed on the Delloye opencast mine. This site has been operational from 1931 to 1971 and about a 1,000 miners laboured here, producing about a 1,000 tonnes of coal daily. Hereafter we returned to the Novo hotel for supper and the prize-giving ceremony.
We also celebrated the 10th anniversery of Ledorga. Many, many thanks to Dominique Leherre, Franck Sandoux et their team members!