On Sunday September 6th, 2015 our member Frans is taking you to a seemingly non-Dutch part of the Netherlands. The Four Countries Route passes through the history and the hills of South Limburg.
Where will the ride begin and end?
You are welcome at Restaurant De Bokkerijder, Viergrenzenweg 232, 6291 BX Vaals between 12.00 and 12.30 H. This is close to the highest point of the Netherlands.
The restaurant has ample parking space and has a fantastic view of the neighbouring German town of Aachen. Coffee/tea with flan will be waiting for you. And… if early, you can walk towards the Four Countries Point only five minutes away.
Towards 17.00 h. we will also end the day here. For those who have booked in advance a three course dinner will be served at 18.00 h. (choice between fish, meat or vegetarian) for € 25 p.p., drinks not included.
The route

At 13.00 h. the ride will start at the historic Four Countries Point, where now three countries meet (the Netherlands, Belgium and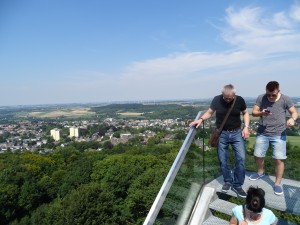 Germany), but which until 1915 also bordered a fourth country, the republic of Neutral-Moresnet. In this 'cake wedge' there was a large zinc mine, formed into a separate state by the Vienna Congress of 1915, with its own flag and stamps. There have even been attempts to make Esperanto the official language there. At the present Three Countries Point a fourth border post can still be seen.
We cross the border and suddenly we seem to be in a completely different world. Houses, streets and signs all look different from the Dutch ones. We are in the German speaking part of Belgium, offically belonging to the French speaking province of Liege. Meandering and hollow roads lead us back into the Netherlands.
We pass a vineyard (tasting possible if you want) and we'll get to the Gulperberg (steep ascent: 14%!) with beautiful views. Past breweries and along more winding raods we 'll drive through Germany back to the restaurant De Bokkerijder.
The totale ride will be about 60 kms. with possibilities of extra loops.
Cost
Payment is done in advance, something you're used to with GCCC by now.
Members pay € 2,50 and guests € 6,50. Included are coffee/tea and flan.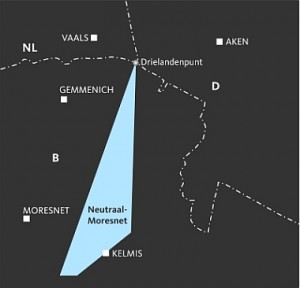 During the trip there are places where you can stop individually and at own cost. The wine tasting, if you choose to do that, is not included either.
Dinner
After the ride there is the opportunity to join your friends at an enjoyable dinner:
Starter: tomatoes with mozzarella and balsamico
Main Course: choice between
– fillet of suckling pig with Vaals syrop
– fried Gulpen trout with Limburg mustard sauce
– herb chees in potato jacket with seasonal vegetables
Dessert: choice between
– monchou pie with cherries
– dame blanche
Signing up

Registering is no longer possible, the final day for that was August 30.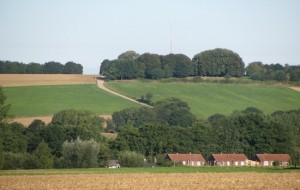 Company?
As usual, guests if announced in advance, are welcome, as well as our faithful four-legged friends. Mind you, your dog must be well behaved and kept on a leash.
How to get there and staying overnight
Coming from the North take the A2 motorway towards Maastricht, A76 Heerlen/Aachen, exit Vaals N281, Vaals N278, then towards Drielandenpunt. After the hairpin bend De Bokkerijder is the second establishment.
Coming from the west: Take the E314 and A76, then N281, N278 towards Vaals. In Vaals take Randweg, Nieuwe Hertogenweg and Vierlandenweg.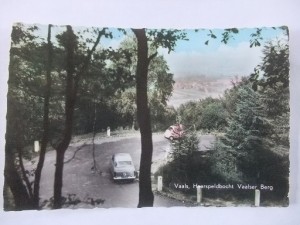 If you like you can stay overnight in the area. There are many possiblities ranging from a camp site to a four star otel. Below there are a few, but there are many more.
Camping de Gastmolen, Vaals, from €15
Landal Hoog Vaals, long weekend, 3 nights from €299
Bilderberg Vaalsbroek, extra offer from €115
Van der Valk, Bloemendal, Vaals, from €126
Hotel Mergelland, Holset, from €83
Uit de Kunst, Vijlen, from €105
Cuba Libre B&B, Vijlen, from €65
Please note: GCCC cannot be held responsible for any damage whatsoever.