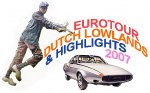 EMMELOORD (May 25-28, 2007) – The organization of Eurotour 2007 wants to thank all 126 participants who made this event such a huge success!
Photos
We had 64 participants from Holland and Belgium, 36 from the United Kingdom, 15 from Germany, 6 from France, 2 from Denmark, 2 from Tunesia and 1 from the USA.
During Eurotour 2007 we had 3 overnight stays at Van der Valk Hotel Emmeloord. Perfect hotel with very good staff and nice food & drinks. On Saturday we started with a guided tour in the garden of Palace Het Loo in Apeldoorn. After lunch in the Teahouse, we visited Burton Car Company in Zutphen. That evening we had a Classic Car Bingo and an athletic performance of Hamid, a Dutch-Persian pole dancer.
On Sunday we were guided around Galleria Style & Auto in Joure by the owner. During lunch we could watch a very attractive demonstration of pole vault jumping. In the afternoon we discovered the beautiful Weerribben National Park. Very nice was the charming village of Giethoorn, situated in the nature reserve 'De Wieden'. We explored this area with its many canals and typical bridges by water-bus boat. Eurotour ended with a splashing entertainment show from the one and only Dutch diva look-a-like Diana Ross!
All these things were organised for all the participants by Aldrin, Con, Ernst, Erik, Fred, Koos, Marcel, Michael, Piet and Ton. Many thanks to them!