OXFORD (May 18th, 2008) – From May 16 until 18 our British sister club GCCG made Eurotour 2008 the main celebration of its 20th anniversary. The festive programme consisted of a number of beautiful drives in the Cotswolds near Oxford.
Apart from that they had organised an extensive and expert visit to the MINI factory. We could enjoy the special Sezincote house, admire cars in the Heritage Motor Centre en visit the beautiful Blenheim Palace. Fortunately the weather was dry, usually cloudy but on the last day the sun made frequent appearances!
Photos Eurotour 2008
Photos from Michael & Fred
Live museum
The 220 participants, of which over 70% of British origin, constituted a very unique live driving museum with a choice of over 100 classic cars. Many Rolls Royces, Bentleys, Mercedeses and all these other expensive joys that make your mouth water.
Gala and fireworks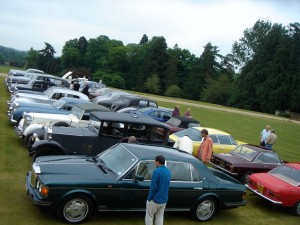 A grand event was the Gala-dinner in the Ballroom of the chic Heythrop Park Hotel. It was fun to see so many men in three piece suits this time, this brightens some people up tremendously! After a performance of a singing vacuum cleaner and a beautiful a capella song from GCCG-member Paul, the dinner was given an unexpected turn. After the very tasty meal we were all invited on the steps for a surprise: the grand finale turning out to be fireworks let off from behind the parked classic cars.
Dutch participants
The Dutch participants only numbered 14, but we, the GCCC, were quite a large group compared to other foreign participant groups. Our thanks go to GCCG for organising this Eurotour so well, it brought a lot of pleasure to us all.